Resources
Important account information and FAQs
Northeast Bank is a full-service bank established in 1872. We are both an experienced, balance sheet lender offering speed, certainty of execution and creativity to structure loan originations and acquisitions nationally, and a full-service bank serving
customers in Western, Central, and Southern Maine.
Northeast Bank ROUTING NUMBER is: 211274557
Northeast Bank FDIC # 19690
Frequently Asked Questions
Below are some of the most common questions about banking with Northeast Bank. If you have additional questions, Contact Us.
The routing number for Northeast Bank is 211274557.
At Northeast Bank, the security of your accounts is of the utmost importance. In the event your Checks or Debit Cards are lost or stolen, please contact our Customer Success Center at 1.800.284.5989, option 1.
It is important to note that Northeast Bank will never ask you to provide your personal security information via email, telephone, fax or via the mail. PIN Numbers and passwords should only be known to you. No Northeast Bank employee would ever ask you for this information.
To order a debit card for your checking account, please contact our Customer Success Center at 1.800.284.5989, option 1.
Call 1.800.290.7893
Complete the authentication process
Activate your card and create a PIN
Call 1.800.290.7893
Complete the authentication process
Edit your PIN
After entering your Northeast Bank online ID, click "Forgot Password" to have your password sent to the e-mail address on file, or contact us at 1.800.284.5989, option 1.
Passwords and out-of-wallet questions are required to be changed every 6 months. Customers will be notified at login prior to password expiration.
After 3 failed attempts to change a password, the Online Banking account will be locked. If this happens, please contact the Customer Success Center at 1.800.284.5989, option 1.
A payment can be made on your loan from a checking or savings account with Northeast Bank via online banking, telephone banking, or by calling a representative at 1.800.284.5989, option 1. Payments can also be setup automatically by contacting a representative.
Northeast Bank Online Bill Pay offers an easy and convenient way to pay your bills. You can pay virtually anyone, anytime, anywhere in the United States. Login to your Northeast bank Online Banking to get started – you can also set up recurring payments, which is great for car payments, rent or student loans!
We support the current and prior major releases of Internet Explorer, Firefox, Safari and Chrome. You can see the most up-to-date list of our supported browsers
here
.
In order to ensure that our customers have the best experience possible with online banking, we have scheduled downtime throughout the year so our systems are kept at the highest security and operational levels. Currently, Northeast Bank has maintenance scheduled every 3rd Tuesday of each month from 1:00 am - 5:00 am ET. Northeast Bank has reserved these as regular and normal 'off hours' for maintenance. During these hours, systems may be intermittently unavailable for periods of time. As always, if you are experiencing any trouble logging into online banking, you can always call us at 1.800.284.5989, option 1, 6 days a week.
To register for Northeast Bank Mobile Banking, log into your Northeast Bank Online Banking and set up your mobile carrier information within the Settings Tab.
Mobile Check Deposit is a service available within the Northeast Bank iPhone and Android mobile banking apps. It allows you to deposit checks directly into your Northeast Bank accounts by taking a picture of a check using your smartphone or mobile device.
Endorse the original Check with a restrictive endorsement before scanning it by applying your signature and the legend, "For Mobile Deposit Only"
Be sure to include all four corners of the check (front and back) when submitting the check image
Ensure the dollar amount you enter when making the deposit matches the amount on the check
Mobile Check Deposit is currently available for the Android and iPhone (version 4 or higher) phones. Connectivity and usage rates may apply. Contact your wireless service provider for more details.
There is no charge for consumers or businesses to use Mobile Check Deposit.
Northeast Bank personal customers who maintain an eligible checking or savings account
Northeast Bank business customers who maintain an eligible checking or savings account
Must be enrolled
Using Mobile Check Deposit via our mobile banking app offers the same security features and protection as our other online banking services - including secure login, as well as a timeout feature when your mobile device is not in use. Please follow these best practices to secure your mobile device:
Keep passwords, usernames, security information and PINs confidential and do not share them with others
Password protect your mobile device
Always remember to log off properly when you have completed your mobile banking session and do not leave your mobile phone unattended
In the event that your mobile device is lost or stolen, your mobile banking service can be disabled by alerting our Customer Success Center at 1.800.284.5989, option 1
Personal customers may deposit unlimited checks totaling $10,000 per business day. Business customers may deposit up to 10 checks totaling $15,000 per business day. Every day is a business day except Saturdays, Sundays and federal holidays.
After the check has been deposited into your account, we recommend that you mark the check in ink with "VOID" and securely store the deposited check for a minimum of 90 days - then destroy it.
You can deposit checks at any time but if deposits are submitted before 7:00 PM EST (6:00 PM CST) on any business day, your account will be credited that same day. Deposits submitted after 7:00 PM EST or on a non-business day will be posted as a credit to your account on the following business day. Every day is a business day except Saturdays, Sundays and federal holidays.
Consumers can deposit checks into their Northeast Bank checking or savings account. Businesses can deposit checks into their Northeast Bank business checking or savings account.
Deposits made with your mobile device will be confirmed in two ways:
A deposit receipt is provided immediately following a successful deposit
A deposit notification email follows to confirm your deposit has been approved by the bank
You may also check the status of the deposit using the "Review Deposits" feature found within the "Deposits" icon.
Please call our Customer Success Center at 1.800.284.5989, option 1, to speak with a Customer Service Representative.
Accelerated direct deposit allows us as your financial institution to credit your account as soon as we receive communication of your incoming deposit – up to two days early. By reducing our processing time, you're able to have access to your funds sooner!
No – all existing and new checking and savings accounts qualify for accelerated direct deposit at Northeast Bank. There is no need for you to open a new account to qualify.
No – all of our checking and savings accounts (consumer and business) qualify for accelerated direct deposit.
In most cases, yes, however, there are some scenarios that may cause a delay. Scenarios that impact timing may include, but are not limited to:
A direct deposit being initiated for the first time
Incorrectly identifying your account type (checking vs savings)
A recent change in your account number for your direct deposit
A delay in payroll processing from your employer
A federal holiday falls within the "up to two days" window
Your deposit type is not eligible under accelerated direct such as, certain bank to bank transfers
If your direct deposit is not received early, expect that you will receive the deposit on your typically scheduled pay day.
No – there is no cost to you!
No – there is currently not an option to opt out of accelerated direct deposit.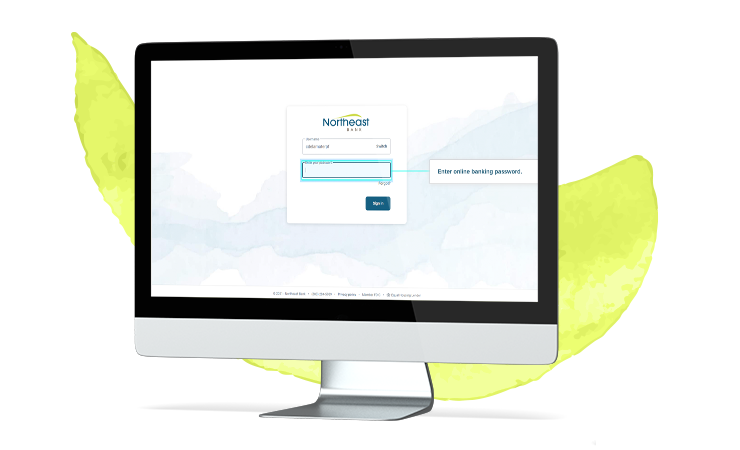 Learning Center
Get the most out of your Northeast Bank experience with our tutorial content for Online & Mobile banking.
Security Center
Our Security Center is designed to provide our customers with all the latest and most important consumer updates and the measures we take to keep your personal and financial information safe. All the information you need to protect your identity and your money can be found here.
And of course, if you can't find what you're looking for here, you can always reach one of our associates for help with your questions or concerns. Our customer's security is our number one priority.